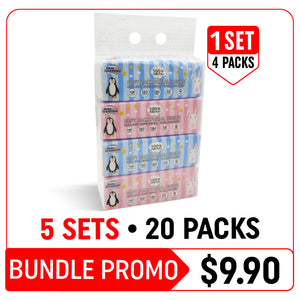 Home Essentials
[Hot Deals] Home Essentials 2Ply Soft Pack Facial Tissue - 5 Sets (4 x 180s x 0.83g – Bundle Promotion)
Regular price
$9.90
Sale price
$15.00
Unit price
per
Tax included.
Shipping
calculated at checkout.
Fast Delivery | Hassle Free | Affordable Price
---
Great buy
Repeat purchase. Good quality facial tissue and the size is perfect :)
Home Essentials 2Ply Soft Pack Facial Tissue 180 Sheets - 5 Packs (4 x 180s x 0.83g – Bundle Prom...
First time trying this product. Although small in size, texture is good for my needs.
[Hot Deals] Home Essentials 2Ply Soft Pack Facial Tissue 180 Sheets - 5 Packs (4 x 180s x 0.83g – Bundle Promotion)
[Hot Deals] Home Essentials 2Ply Soft Pack Facial Tissue 180 Sheets - 5 Packs (4 x 180s x 0.83g – Bundle Promotion)
[Hot Deals] Home Essentials 2Ply Soft Pack Facial Tissue 180 Sheets - 5 Packs (4 x 180s x 0.83g – Bundle Promotion)
---